This will be the first of many Phone Photo Episodes. I have TONS of pictures on my phone that I haven't bothered to upload anywhere. So I will post some pictures from my phone, some old and some new, up each week.
a.
b.
c.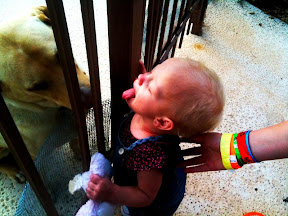 d.
e.
f.
g.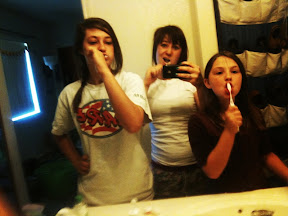 h.
a. My high score on Doodle Jump! I took a picture of it and sent it to Race to gloat. :)
b. My job. This was a good night. All the babies wanted to sit with me and have me read to them. They were being so dang cute. Whenever I quit this job I am going to have to ween myself from these adorable girls.
c. Nora, one of the triplets being cute and giving the dog kisses. She loooves dogs. Dog was actually one of her first words.
d. My tons of wristbands and hand stamps from spending a week in Phoenix with the family I nanny for. We went to Jump Street, Castles 'n' Coasters, Makutu's Island, Laser tagging, and so much more! It was lots of fun and absolutely exhausting!!
e. This is a picture of Race as a little boy that he sent me when he was at home. Wasn't he so dang cute?!
f. This is Race at Red Lobster for his birthday dinner from me. He loved the food. :) I am most definitely NOT the seafood fan.
g. This is my sisters and I brushing our teeth and being goofy a couple of days ago.
h. And this is a picture of my nails. I love nailpolish! :)
- Posted using BlogPress from my iPhone