For our last day in Oregon Race and I slept in late, drove around to places my parents grew up and houses I lived in and we drove out to see Mt. Bachelor. Near Mt. Bachelor there are tons of lakes. We stopped at Devil's Lake which is gorgeous and explored around it. There is still snow on the ground there and the lake is a gorgeous green color. And it's not nasty green as you are still able to see straight through the clear water. Also, my husband is so awesome that he went skinny dipping in the freezing cold water while I watched. :) I should have gone with him....next time! Anyway, it was a wonderful, relaxing last day and I am not at all ready to get back to real life in Arizona.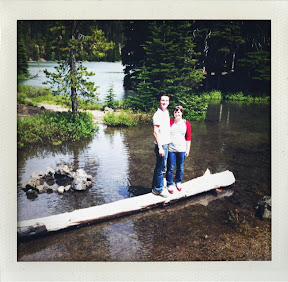 Race and I at Devil's Lake
My dad and I at Devil's Lake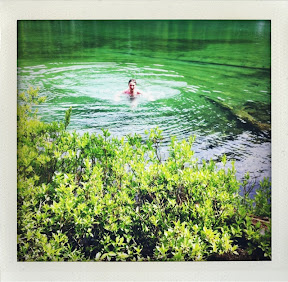 Race skinny dipping at Devil's Lake...haha.
I almost forgot! We stopped by Petersen's Rock Garden before heading to the airport. I remember going to this garden as a young child and I remember it being absolutely gorgeous and enchanting. Last year my grandma and I went and it was dead. There were no gorgeous lily pads in the pond And it was just not at all what I remembered. Luckily it was exactly how I remembered it this time. I guess last year I just came during a bad season. It was gorgeous this time though. Everything is made out of rocks and there are little fairy houses and cute bridges and so many lily pads. And there were some gorgeous pure white ducks swimming in the pond. I was so glad that we were able to stop and see it.
Here are some of the bridges going out into the pond and there are some fairy houses in the middle. Also you can see some of the pretty lily pads.
Here's me on one of the pretty rock bridges with so many lily pads behind me.
Well, as of 4:30 this morning we are back in Flagstaff. It's so nice to be home but I do not feel ready to buckle down and find a job. I love not having a job but it is also stressful in the money department so I will start looking for one this week. Next week I am planning on going down to the valley for a few days to help my brother and sister-in-law with their cute babies while they get ready to move into a new home. I am excited to hang out with the babies and with my sister-in-law Nikki. Also, it will of course be fun to hang out with my brother. :)
Here's a cute picture of the babies I get to hang out with for a few days! This was from about a month ago and I can't remember who is who in this picture. I can't wait to go see them and see how much they've grown though!!